Columbarium by Design is committed to listen to its clients and the families they serve
Filed under: News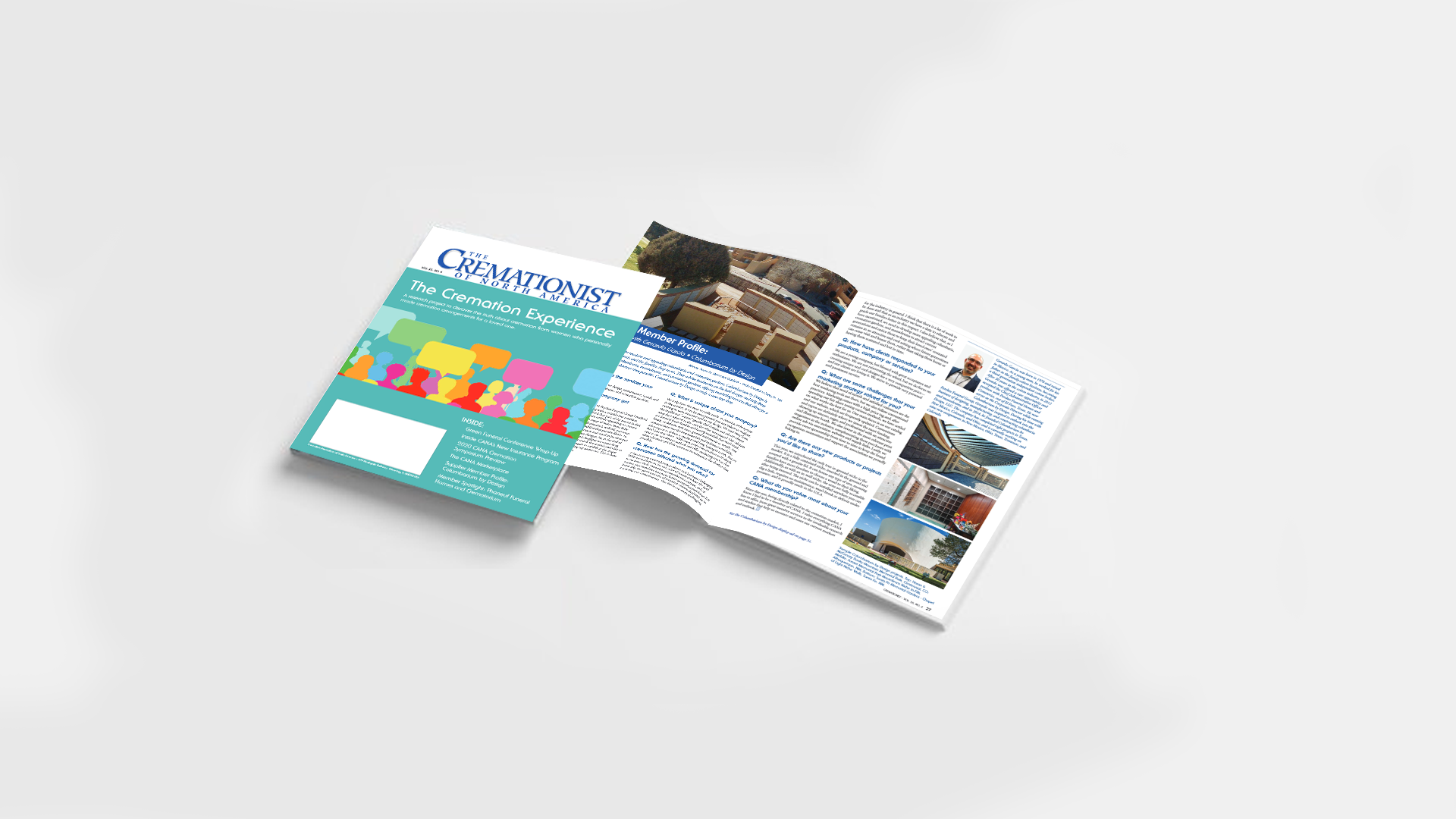 An interview with Gerardo Garcia • Columbarium by Design
Inspired by the clear need for modern and appealing columbaria and cremation gardens, Columbarium by Design is committed to listen to its clients and the families they serve. They advise businesses on the best designs and help them create relevant and lasting columbaria, mausoleums, and cremation gardens, offering marketing services that allow for a  return on investment in the shortest time possible. Columbarium by Design is truly a one-stop-shop.
Q: Please describe the services your company offers.
"At Columbarium by Design, we design, manufacture, install, and construct columbaria, mausoleums, and cremation gardens."
Q: How did your company get established?
During my tenure as the CAO of Perches Funeral Group, I realized how fast cremation was growing with a notably low retention rate of cremated remains. I realized that part of the reason is that what is offered at cemeteries is not entirely appealing to current generations. We need to please a range of tastes, from Baby Boomers—who are modern, well educated, well off, and want nothing to do with what their traditionalist parents liked—to Millennials—who are very progressive and need to be attracted by sophisticated and contemporary designs. So, at the end of 2015, I embarked with my wife and daughter on a year-long road trip around the country to research the market and visit as many cemeteries as I could and began to exhibit at the major industry conventions to start getting my name out. This is how Columbarium by Design was born.
Q: What is unique about your company?
We truly have the most versatile made-in-America niche system in the market. It can be incorporated into any indoor or outdoor, existing or new, structure and to any design. We steer away from the traditional "square" granite-clad designs and ask our clients what they what us to do—not the other way around. Our cabinets are formed from durable and lasting materials that won't crack, break, or deform with time, ground settlements or weight. Our constructions use the best materials and techniques available, allowing us to deliver a modern and long-lasting structure. But we don't just stop there. With every project, we produce an in-depth return-on-investment outlook and offer marketing services that allow clients to get their return on investment in the shortest time possible.
Q: How has the growing demand for cremation affected what you offer?
It has been as tremendously positive as it has been challenging. With cremations on the rise, a lot of cemeteries have the need to increase their cremation memorialization options, and, of course, this translates into more business opportunities for us. But ironically, the great majority of cremated remains don't end up in a cemetery or columbarium. This fact is extremely challenging for the industry in general. I think that there is a lot of work to be done and that as an industry we have a duty to educate and guide our families better in this respect. I also believe that, as I have mentioned, we need to develop more appealing columbaria, cremation gardens, and mausoleums to attract current generations and entice them to keep their loved ones' cremated remains in an attractive and cool setting where future generations can come to visit and honor them, rather than taking them home or having them scattered and lost in time.
Q: How have clients responded to your products, company or services?
We are a young company but blessed with great acceptance and enthusiasm. We are not reinventing the wheel, but we do focus on creating unique and cool designs for a very competitive price—and our clients are loving it. We strive to provide a very personal and passionate service.
Q: What are some challenges that your marketing strategy solved for you?
We believe that word of mouth and satisfied customers are the best marketing tools out there, but we also follow conventional practices. Marketing comes with a high price tag and, after spending our fair share testing various methods, we have settled on what works the best for us. Our main focus is on our catalog and our website, which are frequently updated. Conventions and expos are definitely where we invest the most funding, showing up sincere, eager, and professional with an attractive and illustrative booth. We also invest in the most relevant print magazines in the industry, complementing these purchases with online ads via association websites and supply links. Lastly, we provide event sponsorship from time to time to keep the brand recognition momentum and support the associations we proudly belong to.
Q: Are there any new products or projects you'd like to share?
This year, we introduced the only true in-ground niche in the market. It is a fully contained niche, inserted in the ground and covered with a granite lid. It can house any type of urn, meaning families have more freedom to choose a vessel to their liking. Additionally, as with an in-wall niche, the urns are fully accessible after being inurned. The niche can be installed anywhere you can dig a hole, requires no maintenance, won't break or deform under pressure, and is proudly made in the U.S.A.
Q: What do you value most about your CANA membership?
Since day one, being directly related to the cremation market, I knew I had to be a member of CANA. I value everything CANA has to offer, from great member services to the invaluable research and studies that help us measure and asses our current markets and outlook. C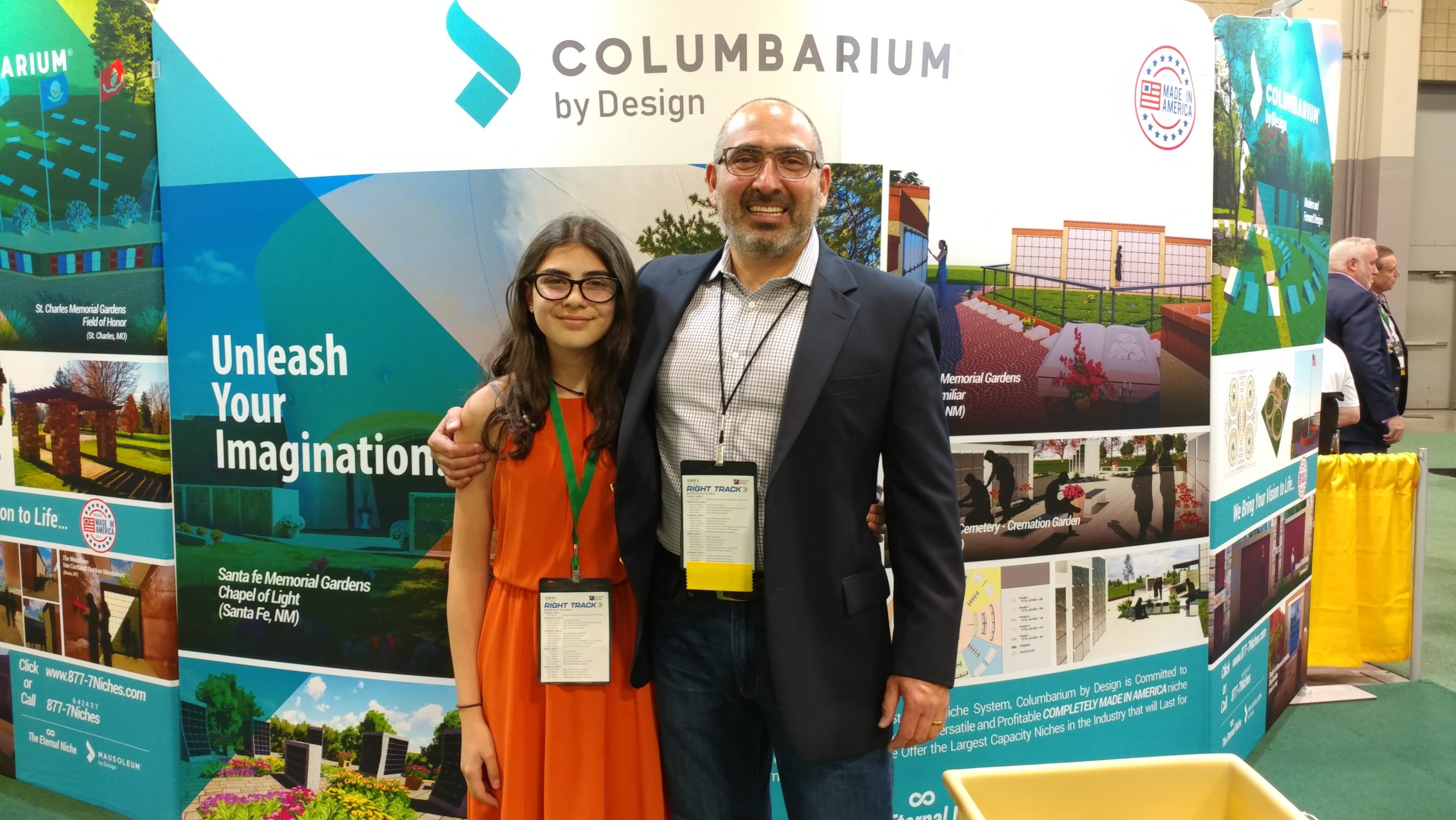 Gerardo Garcia was born in 1970 and raised in Mexico. As a young man, he worked for his father in the family cotton business, becoming a third-generation independent cotton broker. After 30 years in the cotton industry, in 2012 Gerardo was offered a rare opportunity and accepted the Chief Administrative Officer position with Perches Funeral Homes and Cemeteries, out of El Paso, Texas. He now serves as the Corporate Director while running Columbarium by Design. During his time with Perches Funeral Group, Gerardo was inspired to embark into the business of designing, manufacturing, and constructing columbaria and mausoleums, and in 2014, he founded Columbarium by Design, LLC. The company has completed eight projects in Texas, New Mexico, Colorado, and Ohio, and is currently working on nine new assignments in New Mexico, Ohio, Texas, Tennessee, and Colorado.
Sample Columbarium by Design projects. Top: Horan & McConaty Rocky Mountain Memorial Park, Centennial, CO; Middle: Sunset Memorial Park Mausoleum Niche In-Fills, Albuquerque, NM; Bottom: Santa Fe Memorial Gardens – Chapel of Light Niche Walls, Santa Fe, NM.